SNAP Cosmetic Imaging
SNAP Cosmetic Imaging is simulation software that helps you to visualize possible results before any cosmetic dental treatment.
Dr. Bracken "SNAPs" a photo of your smile, selects a procedure to simulate like whitening, veneers, or more, then quickly processes the photo to simulate your newly enhanced smile. Photos can be viewed on a computer or printed for a before and after comparison allowing you to visualize an actual preview of the simulated result before having any cosmetic procedure.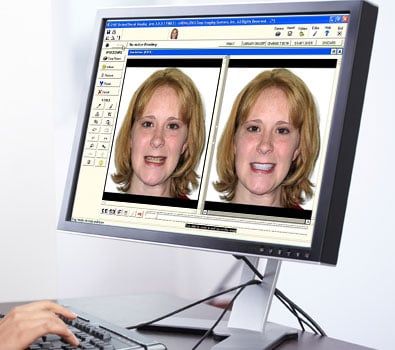 Smile Makeover Case 1
Tooth Extraction, Dental Implant, and Orthodontics Dental Restoration
This patient had an upper front tooth that was malformed and much too small for the space that was present. The treatment consisted of the removal of this small "baby like" tooth and it was replaced with a dental implant and a cap. Orthodontics was used also to help create the right amount of space for the cap over the implant.
Smile Makeover Case 2
Double Dental Implant Restoration
This patient was missing her two upper front teeth. Two implants were used to replace the two front teeth as seen here.
Smile Makeover Case 2
Porcelain Crown and Porcelain Veneers Dental Restoration
Worn and broken teeth replaced with porcelain crowns and veneers.
A Beautiful Smile Is Waiting For You
Our office provides smile makeovers to achieve the beautiful, natural look you seek. We can reshape your natural teeth to make them straighter and more youthful. Our office is easily accessible and makes it convenient to those living near Columbus to get the care they deserve.
Call Us Today | (812) 373-9912